WHAT IS EKSO?
Ekso™ is a wearable bionic suit which enables individuals with any amount of lower extremity weakness to stand up and walk over ground with a natural, full weight bearing, reciprocal gait. Walking is achieved by the user's weight shifts to activate sensors in the device which initiate steps. Battery-powered motors drive the legs, replacing deficient neuromuscular function.
Provides a means for people with as much as complete paralysis, and minimal forearm strength, to stand and walk

Helps patients re-learn proper step patterns and weight shifts using a functional based platform

Facilitates intensive step dosage over ground
WHO IS IT FOR?
Ekso is a gait training exoskeleton intended for medically supervised use by individuals with various levels of paralysis or hemiparesis due to neurological conditions such as stroke, spinal cord injury or disease, traumatic brain injury and more. With medical clearance, it typically facilitates walking for people with a broad range of motor abilities and sizes; which may include up to C7 complete, any level of incomplete SCI, and non-or pre-ambulatory individuals post-stroke.
Accommodates an unprecedented spectrum of patients in motor ability

Everyone medically cleared who has passed physical examination has walked in their first session

Designed for utility and ease-of-use in a clinic setting
HOW IS IT USED?
The Ekso GT robotic exoskeleton provides functional based rehabilitation, over ground gait training, and upright, weight bearing exercise under the supervision of a physical therapist. It has been designed for the needs of busy therapists treating a wide range of patients in a single day. The suit is strapped over the users´ clothing with easy adjustments to transition between patients in as little as five minutes.
Step Generator software helps get patients walking in their first session to quickly achieve work on gait patterning or step dosage

Progressive step modes facilitate patients' escalating skills

A tool to enforce proper biomechanical alignments and symmetrical gait patterns over ground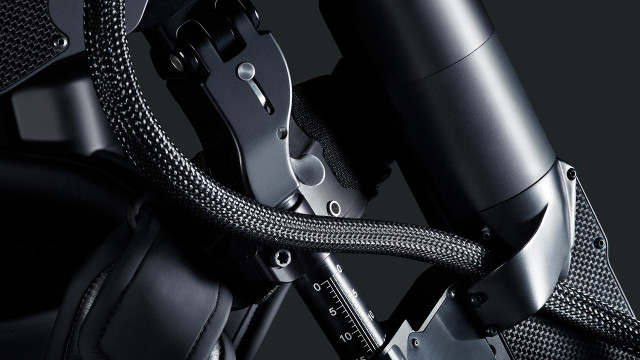 FirstStep™
A physical therapist actuates steps with a button push. The user progresses from sit to stand and using a walker to walking with crutches, often in their first session.
ActiveStep™
User take control of actuating their steps via buttons on the crutches or walker.
ProStep™
The user achieves the next step by moving their hips forward and shifting them laterally. The Ekso device recognizes that the user is in the correct position and steps.
NEW ProStep Plus™
Steps are triggered by the user's weight shift PLUS the initiation of forward leg movement.
NEW VARIABLE ASSIST
Now you can get weak patients up sooner in the recovery process, provide therapy to a wider range of clinical presentations including hemiparesis, and explore the effects of various interventions by tuning the amount of power
contribution to either, or both legs' walking efforts.. Learn more about it.
TRAINING MODE
The Ekso suit provides audio cues to the user when ideal lateral and forward spatial targets are achieved to initiate a step. Training Mode is used to determine the ideal weight shift targets for a user that is preparing to progress to ProStep.
EKSO PULSE
Ekso Pulse automatically gathers and transmits statistics and device information during Ekso walking sessions. Data can be retrieved through our secure web server to view, filter, and export.
Craig Hospital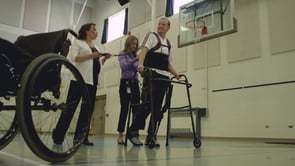 Candy Tefertiller, PT, DPT, ATP, and Director of Physical Therapy at Craig Hospital, Denver, Colorado shares how Ekso is used in their SCI rehabilitation program.
SCHÖN CLINIC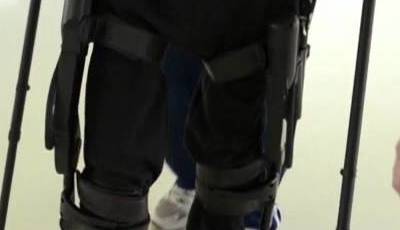 The Schön Clinic in Bad Aibling, Germany is using the Ekso GT with patients with lower extremity paralysis to explore the potential physical and psychological benefits of neurorehabilitation therapy.
Confluence Health