WHAT IS EKSO?
Ekso™ is a bionic suit, or exoskeleton, which enables individuals with lower extremity paralysis to stand up and walk over ground with a weight bearing, four point reciprocal gait. Walking is achieved by the user's forward lateral weight shift to initiate a step. Battery-powered motors drive the legs and replace neuromuscular function.
WHO IS IT FOR?
The first generation of Ekso is intended for medically supervised use by individuals with complete or incomplete spinal cord injury (SCI) or disease, and other forms of lower extremity paralysis or weakness due to Multiple Sclerosis, amyotrophic lateral sclerosis, Parksinson's Guillain Barre or other neurological disease. With medical clearance, the suit can typically facilitate walking for individuals with up to C7 complete, or any level of incomplete spinal cord injury.
HOW IS IT USED?
The current Ekso device provides functional based rehabilitation, gait training, and upright, weight bearing exercise under the supervision of a medical professional in a clinic or rehabilitation facility. The Ekso suit is strapped over the users´ clothing so they can get up in a matter of minutes. Virtually everyone medically cleared for use of Ekso has walked in their first session with a therapist.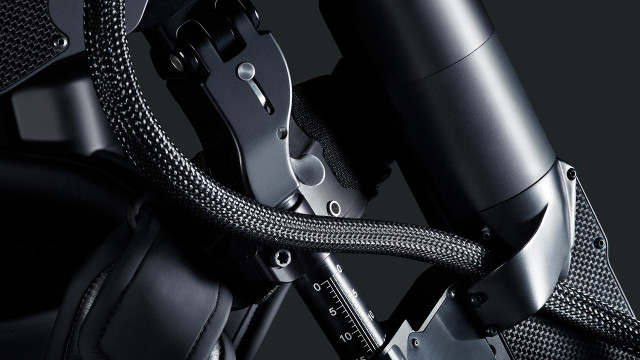 1. FirstStep™
A physical therapist actuates steps with a button push. The user progresses from sit to stand and using a walker to walking with crutches, often in their first session.
2. ActiveStep™
User take control of actuating their steps via buttons on the crutches or walker.2
3. ProStep™
The user achieves the next step by moving their hips forward and shifting them laterally. The Ekso device recognizes that the user is in the correct position and steps.
VARIABLE ASSIST AVAIL JUNE '13
The Variable Assist feature provides the ability to adjust the amount of power the Ekso suit contributes to an individual's walking efforts on either side for indications such as motor incomplete SCI and hemiplegia due to stroke. The power contribution is fully adjustable to either leg based on clinician input or patient's functional strength level.
TRAINING MODE
The Ekso suit provides audio cues to the user when ideal lateral and forward spatial targets are achieved to initiate a step. Training mode is used to determine the ideal weight shift targets for a user that is preparing to progress to ProStep.
EKSO PULSE
Ekso Pulse automatically gathers and transmits statistics and device information during Ekso walking sessions. Data can be retrieved through our secure web server to view, filter, and export.
Craig Hospital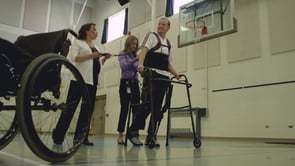 Candy Tefertiller, PT, DPT, ATP, and Director of Physical Therapy at Craig Hospital, Denver, Colorado shares how Ekso is used in their SCI rehabilitation program
Prosperius Institute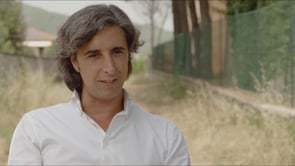 Paolo Milia, MD, PhD and Chairman of the Rehabilitation Unit at Prosperius Institute in Umbria, Italy discusses the application of Ekso at their clinic